18 Jun
AWM360, masters in the art of SAP Workforce Management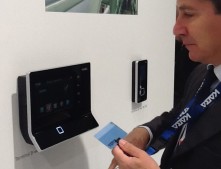 Executive management at AWM360 Data Systems (Pty) Ltd. says there is no doubt that the HCM and payroll functionalities within SAP systems will continue to have a profound positive impact on Southern African and African business when combined with a SAP-certified Kaba® Workforce Management solution such as Time & Attendance and Access Control.
This viewpoint is based on what the company's leadership describe as "a noticeable increase in the interest and understanding of the inherent functionality and depth of SAP architecture, primarily of that which supports the range of tasks and functionalities that typify these key business disciplines."
These tasks include the automated collection of employee's time and absences; time evaluation; granting or refusing access through integrated access control or measuring job times in the case of Shop Floor Data Collection, amongst a host of others.
Workforce Management has been identified as primary considerations for business leaders and critical components of any sustainable operational strategy.
According to leadership at AWM360 Data Systems this has a direct bearing on any sized venture, in any segment of the market and at any stage of development.
AWM360 is focused on emerging and established businesses that require service and support in order to leverage off innovative and state-of-the-art Access-, Workforce Management- and Enterprise Data Collection solutions.
Its value as a trusted services partner in these high-growth areas is reinforced by the fact that the company is the sole distributor of hardware and software solutions manufactured by Kaba AG, Switzerland, to the Southern African market.
The company was a premier partner at the 2nd Mastering SAP Conference hosted in Johannesburg in April.
Managing Director Guenter Nerlich confirmed that attendance at the event was substantial and there was a clear interest amongst delegates in how businesses can leverage off SAP HCM solutions to enhance their HCM and payroll efficiency.
"Business leaders want to know what their investment in SAP technology can do for their operations. This technology is designed to automate and streamline core processes. We are referring to processes that are at the heart of HCM. We viewed our contribution to this event as a critical step in not only exposing the value we offer, but also as something that is key to our objective of engaging and communicating with our target market," says Nerlich.
The next Mastering SAP Conference is scheduled for 10-12 March 2014 in Johannesburg.