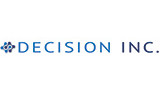 About Decision Inc.
Decision Inc. is a leader in enabling its clients to make better decisions, faster. The Company's foundation is built in technology; however what makes us unique is our understanding of effective decision making.
We represent leading global technology brands SAP BusinessObjects, Qlikview, Microsoft, Roambi and MicroStrategy and are experts in the implementation, support and execution of these technologies.
Our clients trust us to provide them with an enhanced capability to make informed decisions. We leverage the strengths of these relationships to provide them with solutions that deliver value to their business. Our consultants have in-depth industry knowledge and technical expertise to assist organisations with their definition, implementation and support of decision making processes.
The four key pillars of Decision Inc. dedicate experienced consulting resources to deliver decision, advisory and strategy capabilities; data engineering; insight generation & presentation; and solution enablement and support.
For further information please visit www.decisioninc.co.za