18 Jun
ABOUT US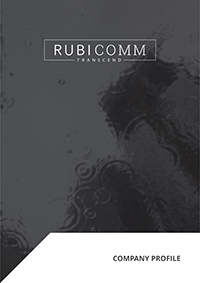 Rubicomm is a specialist proudly South African provider of public relations and communications services targeted at a broad range of industries across numerous key sectors of the country.
Since the company was created at the turn of the new millennium, it has continued to represent a powerful force in modern corporate communication.
These sectors include high-growth markets such as market retail, manufacturing, Information Communication Technology, corporate and government.
We engage with all media platforms to secure maximum exposure for businesses. We emphasise the important role of broadcasting, online and print publications to communicate the strength and value of the company and its services.
As an established, progressive services provider with offices in Gauteng and Cape Town, Rubicomm is focused on leveraging the power of social media to build the profiles of our clients.
With the advent of social media and social networks, including the fact that Facebook has reached over 1 billion subscribers, there is no doubt about the power of these platforms as part of an immediate, relevant and efficient communications strategy.
We house the very best talent the market has to offer and our experience in the ultra-competitive PR and marketing services space is what differentiates the company.
Rubicomm's vision is to be the premier PR and marketing services provider and partner to businesses that make up Africa's diverse commercial landscape.
The company adheres to a strict code of ethics and key business principles that include:
Accurate, relevant communication
Fair, balanced and strategic messaging
Focused Public Relations
Open-door policy
Adherence to corporate governance processes and procedures
Affiliation to industry regulators
Leadership
Intellectual capital
Employee empowerment
Customer expectation