08 Sep
KEMP opens up South African operations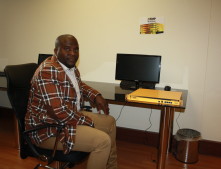 Leading global provider of ICT solutions and load balancing infrastructure, KEMP Technologies, has launched its South African operation, with its offices located in Constantia Square Office Park, Midrand, Johannesburg. Management believes this development will help to sustain exponential growth quarter-on-quarter and solidify its market position as the third most sold ADC in EMEA, according to Dell'Oro.
The company has seen growth with (30%) increase on sales year in South Africa – which justified the decision to open a new office.
The Midrand-based operation will play a key role in helping to cement the company's value proposition to the South African market. It will offer live product/solution demonstrations, training and will host vendor-focused days.
Khutso Mashile, Sales Manager – KEMP Technologies Africa, will head up the South African office, the first the company has established in South Africa.
"This is a new hub in Africa and we are very excited about establishing a firm footing in this growing market space," says Mashile.
As is the case with any business engaging the lucrative Africa market, having 'feet on the ground' is considered a must and partnerships a prerequisite for any credible and successful venture.
The company has established a network of solid, strategic partnerships including with Dell, HP and Core Networks.
"These are considered global leaders and we have a great deal of synergy based on our proven track record and the strength of our solution portfolio. This is indeed a very important phase in our development," Mashile continues.
KEMP Technologies has grown within the Africa market thanks to customer wins like South African Airways, FNB, Netcare, Glencore, Old Mutual, Mutual & Federal, Edgars Group, Altech Netstar, Foshini Group, Department of Social Development, Department of Water Affairs, City of Cape Town and Durban Municipality says Mashile
"An increasing number of customers are opting for a high performance product at a competitive price," Mashile adds. "This is where we add immediate value," he adds.